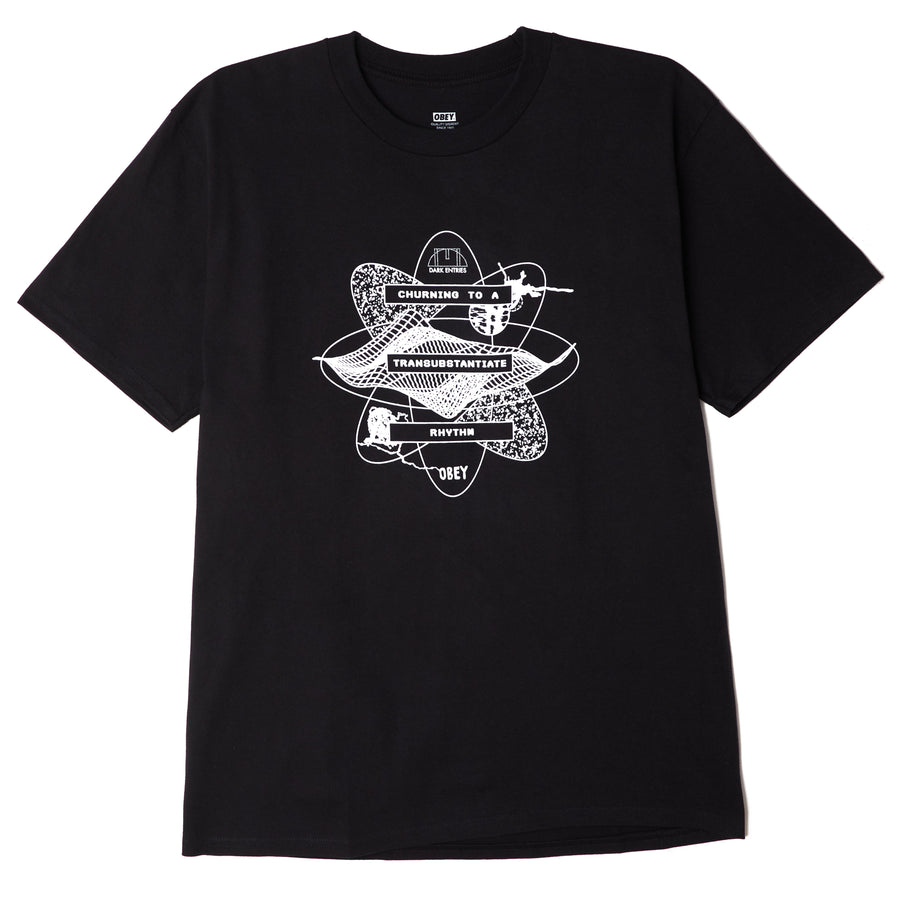 OBEY x Dark Entries Classic Tee
Regular price $34.00 Sale
REGULAR FIT CREW NECK T-SHIRT

100% COTTON
SKU: 165262672M
OBEY Clothing worked with label owner Josh Cheon, founder of Dark Entries Records, on an exclusive mix and T-shirt release.
Josh Cheon grew up in suburban New Jersey, spending his weekends inNew York City dancing at goth clubs and digging for records. His love of underground 80s music pushed him to start Dark Entries, a record label specializing in reissuing lost gems as well as releasing contemporary acts from around the world. He was a member of the queer DJ collective Honey Soundsystem from 2007-2017.
 The inspiration behind the t-shirt graphic:
 Using a quote from Patrick Cowley's journal 'Mechanical Fantasy Box' as the springboard for the design, we wanted to explore the science and space aesthetic of the 1970-80s that developed alongside analog synth music, which is the heart of the label. These elements orbit in "transubstantiate rhythm" around an undulating waveform that echoes early synth graphics. The alien forms in the corners are scientific illustrations of spiral ganglion neurons that deliver acoustically information from the inner ear to the brain, representing the neuroscience behind hearing that sparks the transcendental mind/body experience of music and dancing which connects and heals us all. Designed by Eloise Leigh @new_age_rage of @darkentriesrecords.
 Available exclusively at www.darkentriesrecords.com and www.obeyclothing.com